Mitchell Stein- Merry Christmas everyone! Today, in honor of the joyous holiday (not Festivus) I decided to showcase just a few of our all-time favorite Disney Christmas Classics, and what about these films makes every December mean so much to us.
The Muppet Christmas Carol (1992)- 
What makes The Muppet Christmas Carol so special to us? The reasons never end.
This hilarious re-telling of The Christmas Carol is so magical and in so many ways. It features our favorite characters, great music and some really great holiday moments. This is easily the best retelling of the story that there is.
Christmas for me doesn't begin until I re-watch this movie. The moments are so beautiful and heartwarming, especially the music of It Feels Like Christmas and One More Sleep 'Til Christmas. 
That's why this movie will always remain at the top of my list.
The Santa Clause Trilogy: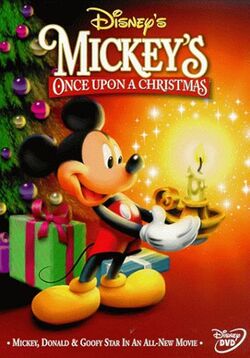 The 1994 movie, The Santa Clause would always be a classic Disney Christmas film. Starring Tim Allen (later to play the voice of Buzz Lightyear). When Scott Calvin accidentally knocks Santa off his roof and must take the place of Santa this Christmas.
The less classic movie, The Santa Clause 2: Mrs. Clause was less fun and the even less fun film The Santa Clause 3: The Escape Clause also were produced, but missed the heart of the first movie. Although, the entire trilogy will always earn a special spot on the Christmas movie list.
Mickey's Once Upon A Christmas: 
This three-story movie is by far a very special Disney classic. Not only does it star Mortimer Mouse but loads of other Mickey characters, including Max, Huey, Dewey & Louie, Scrooge McDuck, Chip n' Dale, and even Owl from Winnie the Pooh and a whole lot more. This is a must see for Christmas.


Prep & Landing and Prep & Landing: Naughty vs. Nice: 
I do not enough nice things to say about the two Prep & Landing films. My only complaint is that it was too short. There's so much heart, depth and humor crammed into twenty-two minutes, more than what two-hour movies can ever cover.
The movies follow two elves named Lenny and Wayne who work for the Prep & Landing Dept. for Santa., a secret group preparing everything in every home for the big night.
When Wayne decides to slack off during the operation, code 'figgy pudding' (code red) cancels Santa from visiting Timmy Terwelp's house on Christmas. It's then up to Lenny and Wayne to ensure that Christmas is delivered to every house, including Timmy's. Lots of fun is to be had in this special.
In the second film, Coal Elf Brigade is hacked by a mysterious hacker identified by 'jinglesmell1337', and a special unit sent to deliver items to the Naughty kids were hijacked and lost a Fruitcake Conduct Calculator. The Prep & Landing guys, including Lenny and Wayne and sent in to find the calculator.
The sequel is a lot of fun as well, and we're introduced to some more characters, including Wayne's brother, Noel. I make both these films a must see every year.
A Muppet Christmas: Letters to Santa 

Not my favorite Muppet Christmas special (A Muppet Family Christmas is my favorite, thanks for asking) but it's the other Christmas Muppet movie made by Disney, and overall, I love it.
It's a little slow paced, not the most hilarious Muppet special, but it still has the great Christmas element to it and it's a lot of fun. The songs are great, written by the legendary Paul Williams, and has some hilarious comedy and some really fantastic celebrity cameos, featuring my favorite, Nathan Lane paired up with Bobo the Bear. If that's not enough to make you rush to see it, I don't know what is.
Frozen: 
Not a Christmas movie, but it is all about the Winter, and is a perfect movie to go see over the holidays with your freinds, family or chickens! Read our review: 
What movies/specials mean the most to you by Christmas time? Send us an email at mickeymindset@gmail.com and we'll feature it in another Christmas article!


MERRY CHRISTMAS FROM THE MICKEY MINDSET! HAVE A MAGICAL NEW YEAR! 

The Mickey Mindset, mickeymindset@gmail.com